CONTINUE YOUR VIRTUAL TOUR OF
---
The museum contains a fine collection of antique transportation equipment. Motorized, horse drawn, and pedal powered vehicles of all types are on view. One of the most famous vehicles is the vintage 1854 hearse ridden by Tom Cruise in the motion picture 'INTERVIEW WITH A VAMPIRE'. Seen here along with hearse, is 1914 Model T " opera Coupe".

Air travel is well represented with the presence of several air frames and plane components. The actual propeller from Charles Lindbergh's BH-9 still spins in this novel display by artist David Norwood...
---
American Theatre Music lives on to charm visitors. One of the Museum's premier artifacts is this vintage Wurlitzer Theater Organ which once accompanied Silent Films at the New Haven OLYMPIA THEATER.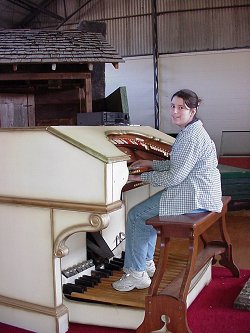 Click on the console to see more detail and to hear a real theatre organ
Click here to see a complete stoplist and brochure on the organ.
Through the efforts of Museum Curator Earl Smith, and members of the American Theater Organ Society, restoration of the organ is now underway. Public performances and open console meetings are scheduled in the near future.

Visit the A.T.O.S .South Mississippi Gold Coast Chapter Web Page CLICK HERE
For more information on , visit the Theater Organ Home Page via this link...

---

To continue your virtual tour, please click here...


To return to Home Page, click HERE

................. To E-Mail the Museum, click this link

---

THIS PAGE WAS CREATED FOR THE JACKSON CHAMBER OF COMMERCE BY SPI NETWORK SERVICES..
Covington, La. 70433